Why It's Time to Invite Social to the Corporate Party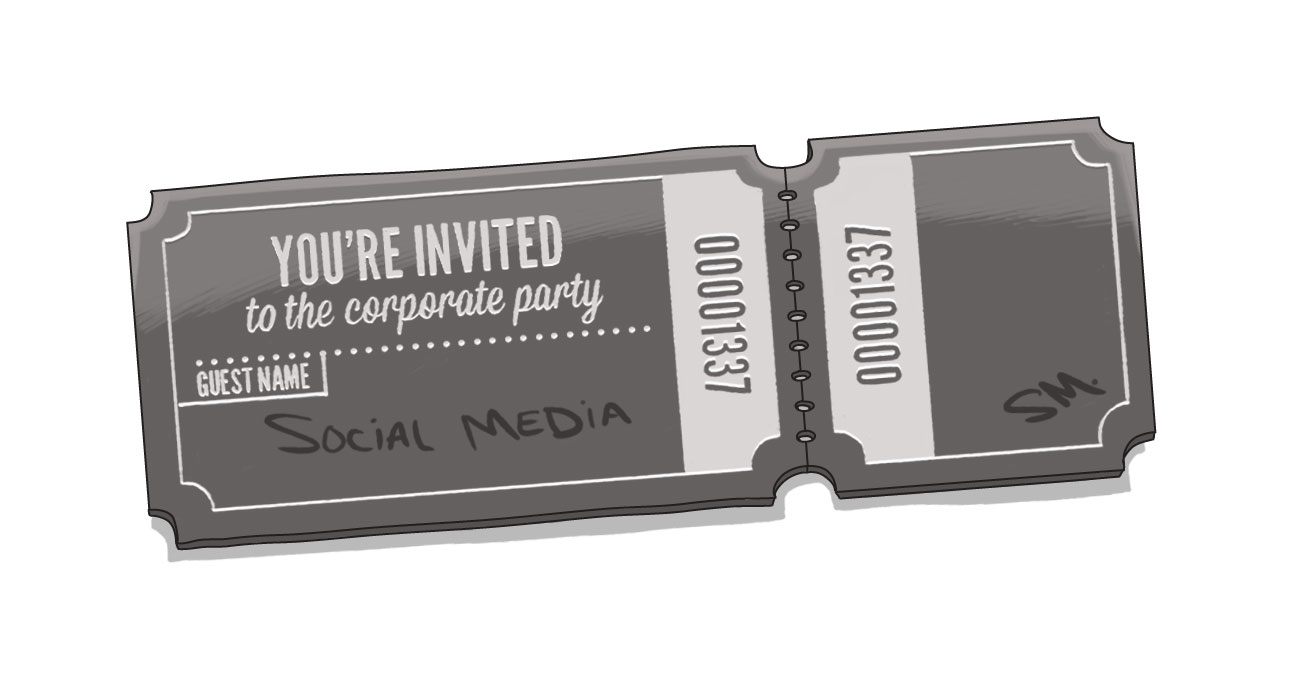 It's the bane of every social networker's existence – how do you accurately define the return on investment for your social media activities?
Business loves its acronyms: ROI, KPI, SMART, ROS – and the tangible benefits of social can just be too airy fairy for the C-suite. Social takes time, effort, and resources – but the returns can be challenging to define.
In the end, most businesses want sales. The talk about responsible corporate citizenship, engaging the community, and fostering brand loyalty are mere words on a page if they're not converted into people walking through the door of one's bricks-and-mortar location or clicking on the Add to Cart link on one's on-line store.
Compounding this issue is the damage done by self-professed social media gurus (or wizards, chiefs, sages) who promise the moon in terms of added likes and instant communities but fail to deliver on the back end. After the smoke dissipates and the mirrors crack, all that's left is a disillusioned CEO who has nothing for his or her investment other than a few hundred fake Indonesian fans -- and an increasing dissatisfaction with the value of social networking. Like wizards of yore, these self-professed social media gurus end up promising the wow, but delivering little but a puff of smoke in their wake.
I'm enough of a biz veteran to know that there has to be some tangible return on investment – and the best social media types can actually improve their perceived value to a company by delivering on realistically set goals.
Before I continue, let's head on back to acronym land for a second and look at SMART goals. The key for any business is to develop those Specific, Measurable, Attainable, Relevant, Timely goals. There are several variations of what SMART means, but in essence it's common-sense goal setting: ensure your employees actually have a chance to reach their goals through their own efforts, and that the goals align with your overall corporate initiatives.
That out of the way, how do you determine social ROI? Sure, you could set sales targets and have your social team support them through Twitter and Facebook promotions. You run the risk of coming across too pushy, though, and turning off a significant segment of your audience.
Or you could look at social as another tool in your overall marketing and public relations' tool belt. It can complement your traditional advertising efforts, it can augment your corporate benevolence efforts, and it can help you with product development. After all, social networking users are generally not shy about telling you what they like or dislike about your products.
Good companies also understand that social networking can be a vital component of customer service. Whether it's through direct action (posting on your Facebook page or writing to your Twitter account) or indirect statements (posting about you on Facebook or writing about you on Twitter), your customers are sharing their experiences and frustrations with your products, services, and policies. Monitoring these conversations and interacting where appropriate are extremely valuable ways of turning brand critics into brand advocates.
Sure, you could set a goal of increasing your number of Facebook likes by X per cent. But why? What purpose does that serve? If that's all you want, then go ahead and buy them. I prefer to advocate that companies stop counting their likes, but make their likes count. No matter what social networking site you use (Facebook, Twitter, YouTube, Pinterest, LinkedIn, etc.), you want to ensure that those who have chosen to actively engage with you not only remain engaged, but actively work on your behalf as brand advocates.
And don't discount the value of satisfaction. I've said it before, but I'm a big fan of surveying your customer base. Find out how your customers feel about your on-line activities and then work to improve upon that baseline. Ask the tough questions, find out what your customers want, and apply that information to improving your business.
In the end, the greatest challenge with determining ROI for social networking comes not from its inability to deliver, but rather from unrealistic and unfair expectations of its role and power. Social isn't a mean to an end all of its own – rather it's part of a comprehensive business effort designed to improve all aspects of your business.
Social is not strictly marketing, it's not strictly sales, it's not strictly public relations, it's not strictly CRM, and it's most certainly not to be done just because everyone else is doing it. It's a complement to the first four and, as such, should be measured as one part of an overall solution.
Aligned as such – as an integral component of your operation's essential business solutions – social has the opportunity to elevate a wide variety of your business-building metrics. Looked upon in isolation, as a way to drive revenue on its own? It's doomed to fail.
It's time to invite social to the party. Include it in all your business functions and everyone will be happier – and more successful.
Now, how do you measure social where you work? Do you have specific metrics and goals for your social networking efforts or are they rolled into your greater sales, awareness, and CRM efforts? We'd love to read your thoughts in the comments section below.
Questions Answered
How do I measure ROI for social media?
What metrics should I use to measure social media success?
How do I determine whether social media is working for my business?
How do I align my social media efforts to my KPIs and goals?