UX for Health Care Websites: The Hospital Foundation Website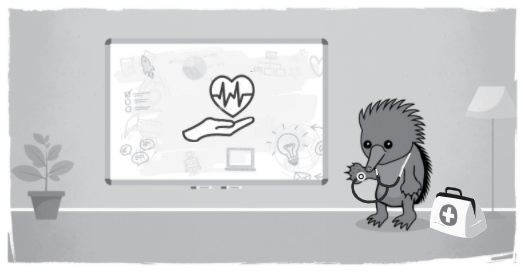 There are a variety of ways to facilitate online donations that don't involve intrusive pop-ups or cluttering up the homepage. This is where storytelling, mission, vision, and values come into play. 
In an earlier post called UX for Health Care Websites: Putting the patient first, we talked about how healthcare administrators have a responsibility to make health information as accessible as possible to those in need of services; whereas hospital fundraising efforts (often referred to as foundations) have to raise money to provide enhancements to essential hospital patient care. 
This blog focuses on what I have learned as a communications specialist and UX researcher, when it comes to Foundation websites.
Write for SEO and Content Discoverability
Remember that you're writing for all humans, not just medical staff. A doctor would understand what "invasive ductal carcinoma" means, but your average Joe or average Jane would better understand "breast cancer." Using plain language is important for any industry, but in an industry as complex as health care, it's particularly important to think like your general audience. 
My parents in their 60s aren't Googling "invasive ductal carcinoma fundraiser", but they might Google "donate to breast cancer research" or click a button on your site with that call to action.
Use subsites for campaigns
For annual campaigns that run for a specified period of time, such as an annual blood drive, lottery, or marathon, creating a subsite is a great way to measure engagement. It also provides an opportunity for the organization to show some creativity and highlight corporate sponsorships. A campaign site, clearly separated from the hospital site, can share some of an organization's branding but be visually different from the main site so that it stands out. 
Optimize donation pages and forms 
Online donors are looking for convenient ways to give, so creating a process that takes just a few steps is the best way to ensure that donors complete their donations. 
Limit the number of fields donors have to complete;
Include pre-set donations amounts in your forms;
Create a mobile-friendly donation form;
Content counts.
My mom told me as a child, "it's not what you say, it's how you say it". Asking for specific amounts supported by their potential impact can show donors the value of their contribution. For example, "Please give $25 - your donation gives a warm coat to a child in poverty this winter" is more engaging than "Please donate to Coats for Kids". 
Make your audiences feel connected to your stories and they'll be more likely to support your cause.
Use patient stories to promote your services
If you're going to write patient impact stories, this is where to do it. Be sure to include references to your services and programs that helped their recovery. A feel-good story is great, but give your audiences a reason to visit or donate specifically to your hospital rather than just any hospital.
Link to research and training information
A subset of your audience may be interested in medical innovations your organization has made or is currently working on. Including a section about important breakthroughs or current projects further down on your homepage and adding a link to your research page are great ways to showcase your efforts while prioritizing patient care.
Connect with us to talk about your health care web project.
Go back to read Part 1
Questions Answered
What is a Foundation website?
How can my website help with fundraising?
When should I use a subsite?