Top-Five Challenges in Higher Ed Web Design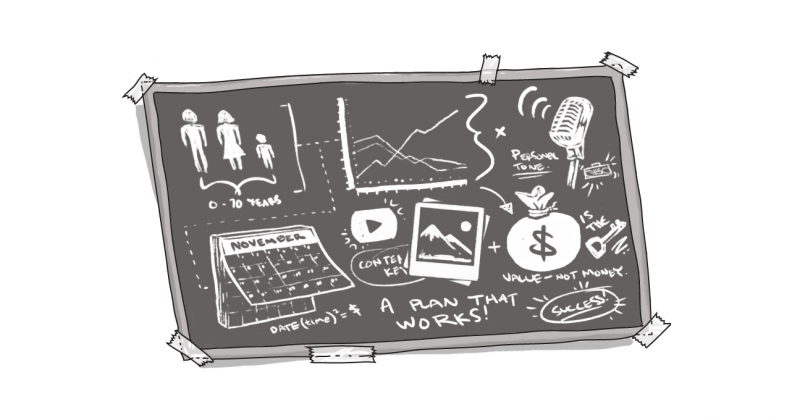 There are thousands of higher education websites out there. On many of those sites, there are often several sub-brands and sub-sites that have their own unique treatment. We've worked on enough higher education websites to know that there are some common challenges facing college, university, and other post-secondary websites.
Ultimately, they can be condensed into two key areas: not understanding the audience and what they want; and not understanding the amount of internal work and resources that are going to be required.
Here are our top-five challenges in higher ed -- and how to overcome them.
Misaligning with Primary Audience
Everyone is not your primary audience. Yes, certain people and groups may come to your site once in a while, but that's not your focus. When you try to be all things to all people, you end up fragmenting your message and providing an unsatisfactory experience to all.
The primary audience, from a higher ed standpoint, is always going to be prospective students. The vast majority of your efforts should focus on the needs of that audience.
Current students? Employees? Alumni? Researchers? Government? All worthy audiences -- all not the focus of your main website. When it comes to prioritization of content, flow, and aligning information architecture with user needs the prospective students come first.
Of course, that's an easy argument to win when you understand what the website's actually supposed to do. Which leads to our next pain point.
Not Understanding the Role of the Site
This isn't 2004. The web is no longer a massive dumping ground of information. Your external website is not a proxy for an Intranet (or a substitute for a lack of an Intranet). It is a tool -- one tool in a much-larger toolbox -- that has a definitive purpose. 
That purpose? To get prospective students to apply to your institution.
That's it. That's all. All the rest? It helps to support the requirements to meet that goal. The school's mission may be to position itself as a leader in the industry, but the goal of the website is (most often) to facilitate the conversion of prospective students into applicants.
Yes, it sometimes feels unsavoury to reduce these interactions to a transactional element, but essentially that's what it is. As mentioned above, your prospective students are your primary audience, so you want to ensure they have their needs met. They are coming to your site to explore your offerings, ensure they align with their educational goals, get validation about their decision-making process, and, ultimately, easily apply to the school.
All your other goals? They support that process. You want to position yourself as a leader in a specific field of research, then that supports the students' validation needs. They want to know the school is good and, likely, if they're interested in that field, it'll be important to understand the industry-leading education they're receiving. That's part of the validation process -- but it's not first and foremost.
Ultimately, your goal is to answer the "What's in it for me?" questions that students have. And those are always aligned with personal needs and goals -- do you have the program in which I'm interested? How much does it cost? What degree am I getting? What services are available? What are my learning outcomes? What workforce need is there for the skills I will learn in this program?
Your answers and positioning are the tactics that satisfy the primary goal of the site -- which is to convert prospects into students. 
Too Much Content, Clutter
This often stems from a lack of understanding of the primary audience and the goal of the site. Again, by trying to satisfy all people in your institution, the default is to put everything in a place of prominence, which only serves to cause visual fatigue and overwhelm the user with choice. 
As this Harvard Business Review study shows, more isn't always better with choice. Interactions and conversions decrease with the number of choices presented. So it behooves you to make sure your content is focused and direct.
A well-optimized site will take advantage of how people interact with content through search. Globally, the vast majority of Internet traffic is directed through search, which means they may never see your home page. Instead, focusing on creating optimized content areas can help people get where they need to go.
The other issue where this clutter appears comes in on-site search. People want relevant results right away -- and if your site is littered with redundant and outdated content that overwhelms the valuable content, then it's going to be a negative experience for your user.
Silos, Overvaluing Secondary Audiences and Goals
All too often, higher education sites build their websites in their own image -- as in, they align with internal structures and silos. Or they have their internal goals that they feel the website is going to solve, when it may not be the right tool for the job.
Ultimately, prospective students shouldn't have to "learn" how your organization works to find content. They shouldn't have to understand that Academic Counselling is found under Programs, as opposed to under the Student Services banner. Your site needs to be intuitive to an external, naive user -- a prospective student -- as opposed to marching in step with your org chart. 
Your alumni group may want to increase its engagement, but are alumni really coming to your homepage expecting to find a big Alumni button in the top-right-hand corner? Likely not. Instead, they're probably interacting with your alumni association through mailing lists and alumni magazines -- and those are the right "tools" for that level of engagement. 
Through our focus groups and moderated user testing, without fail we hear students say they want testimonial content in the form of alumni showing how their education led them to success. Students want to see themselves today on the site -- and they want to see a pathway to their future. They don't want puff pieces about how great the college is -- they don't trust that because they don't believe the school would publish anything negative anyway. But what they want is tangible, evidence-and-fact-based testimonials that help to validate their decision.
By understanding the primary role of the site and its audience, it allows you to better position content to serve those needs -- and to ensure that the right content is prioritized.
Failure to Plan
Deadlines are great. But they also have a tendency to go whooshing by if you don't adequately plan resources. That means having the right people available at the right time. 
If your internal structure mandates that a senior management team needs to approve the development progress at key areas, then that needs to be factored in. And a one-day approval is far better than spending two weeks chasing people down. That impacts delivery dates.
Do you have enough people dedicated to updating content? What about migration from an old site to a new one? Content is often the biggest roadblock to success because users always undervalue or underestimate, the amount of effort it takes to succeed.
What about user testing and validation? User acceptance testing? How about any technical and security requirements that your organization has? Have all of those been thought out in advance and planned for?
What about vacations? It's great to do a workback schedule months in advance, but if your key security tester is in Bora Bora for the two weeks you have scheduled for his or her testing window, then that's going to impact the delivery date. 
Trust and Honesty -- The Best Way to Solve All Problems
In the end, there are so many things that can impact the success of a project -- and these are only the top five we see on a regular basis.
Ultimately, openness and honesty is always the way to solve these problems. It can mean having hard conversations with stakeholders -- after all, no one likes being told that they're "a secondary audience." But explaining how the site will work for their end-users and improve findability of content mitigates that risk -- as does evaluating all the other marketing tools you have at your disposal. 
Top Five Higher Education Website Design Challenges
Download this free infographic PDF and you'll also receive our monthly free e-newsletter, Thoughts On All Things Digital. You can unsubscribe at any time!
Your development partner should also be open and honest, explain the risks, and keep you abreast of these challenges. The ultimate goal is that both parties are thrilled with the end result.
We want to hear from you! What challenges have your team struggled faced in the past? Were you able to overcome them? And if you're currently struggling with some of these challenges, we'd love to chat. Comment below.
Questions Answered
What are some trends in higher ed web design?
Who is the primary audience for a higher education website?