Vienna Calling - Fatima's European Drupal Adventure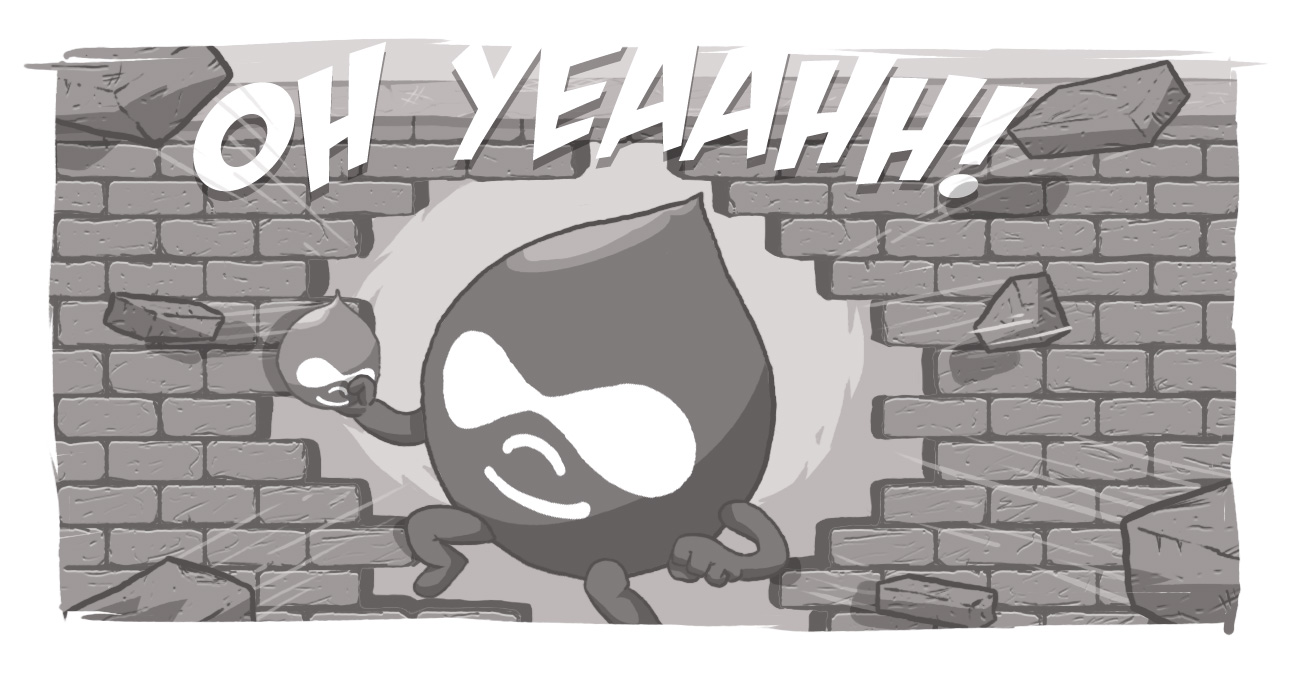 Scholarships are intended to give you the opportunity to learn. With my recent receipt of a scholarship from the Drupal Association to attend DrupalCon Vienna, that was certainly the case -- and my experience was educational, entertaining, uplifting, and awe-inspiring.
This marked my first time in Europe. I was honoured to receive the scholarship, which was handed out to someone that they deemed had a positive community impact, took on leadership roles, and was strongly involved in the Drupal community. I've been fortunate to have these opportunities -- and I've been committed to taking them and making the most of them.
It's nice to be recognized -- I mean, people joke that I've only been around the community for a little over a year, but I've already met everyone. But the fact is that I'm passionate about diversity, inclusion, and using open-source to benefit our communities.
But this wasn't exactly a European Vacation. While there was some play, there was also a whole lot of work.
Summits
I was invited to help organize and attend the Community Summit, put together by the Drupal Austria organization/group. I jumped right into the roundtable discussion about the future of DrupalCon Europe.
Various camp organizers from across the continent, along with some from the United States, discussed various strategies they use to finance, promote and run their camps. We also graphed number of attendees versus budget to see relative camp statistics -- and we found that for its mid-range budget, BADCamp has a huge lead on the number of attendees. 
Keynotes
A highlight of the event is always Dries Buytaert's keynote. Dries is the founder and lead developer of the Drupal CMS and he's the co-founder of Acquia. He talked about how Drupal is growing and it's no longer appropriate for simple sites, but for "ambitious experiences." He highlighted some of the cool work that's being done with site building tools like the layout builder and unveiled a new initiative: automatic updates.
It was fun to see the layout builder being showcased on stage as I'd seen it while watching Tim Plunkett do code reviews on layout builder functionality at the Midwest Dev Summit. It was very exciting to see his team's work being shared.
Joe Shindelar, whom many of my coworkers will recognize from the Drupalize.Me videos they watched when they were training, presented an inspiring keynote. He told us the story of how he started out in Drupal and how sharing creates opportunities, builds people up and "makes Drupal better." It was an inspiring start to the day and reminded us that we each have something to contribute and the opportunities to do so were right here at the conference.
Trivia Night
Every year at trivia night, I complain that there's no women on the judges' panel, so this DrupalCon I decided to do something about it and signed up! It was a very different, high-paced experience. Though it was exhausting and fast-paced, I have to say that it was enjoyable to read some of the ridiculous responses and watch the attendees from the stage.
BOFS
"Birds of a Feather" sessions are an important part of DrupalCon. It's where you can really get together under a common topic and discuss. The BOF that I attended was for a new initiative called Drupal Petitions or change.drupal.org organized by Shannon Vettes. The idea is to have a page similar to change.org where community members can submit their feedback, struggles, or ideas about the software or the community. The platform seeks to highlight the opinions of community members in a transparent way while also bubbling up the concerns and ideas that are shared and important to the community.  
The Hallway Track and Badge Exchange
You've heard me say this many times before, but it's really all about the community. The Hallway Track is just a cute name for meeting and talking with people in the hallways between sessions.
Being that it was my first European Drupalcon, I met a lot of new people working on interesting things. On day two, I did my annual DrupalCon Badge Exchange with phenaproxima. He's the funny and talented Lightning maintainer and a contributor to the migrate module. It was fun to wear his name tag because people would come up to me and ask me questions about Lightning or make strange faces when they glanced at my badge and then at my face. In the past, I've badge swapped with someone I've admired at the end of the conference, but doing it early on was a fun experience and led to many interesting conversations.
Mentored Core Sprints
I was asked to go to the mentored core sprint and that's how I somehow ended up with my own sprint triage table. It was unnerving, but with some help from @YesCT, and @timplunkett, it went well. I was surprised how comfortable I felt mentoring sprint triage and realized it was all thanks to @xjm, @pwolanin, and @cilefen patiently mentoring me through sprint triage at Drupal Camps.
The first timers at my sprint table were really eager and forgave a lot of my mistakes. I found that the best part of mentoring was being human and solving things by starting with "Well, I would do it like…" and working through the solutions together. 
Dries stopped by during the sprints to say hello to everyone and stopped by my table so I could keep my tradition of taking a picture with him at every DrupalCon.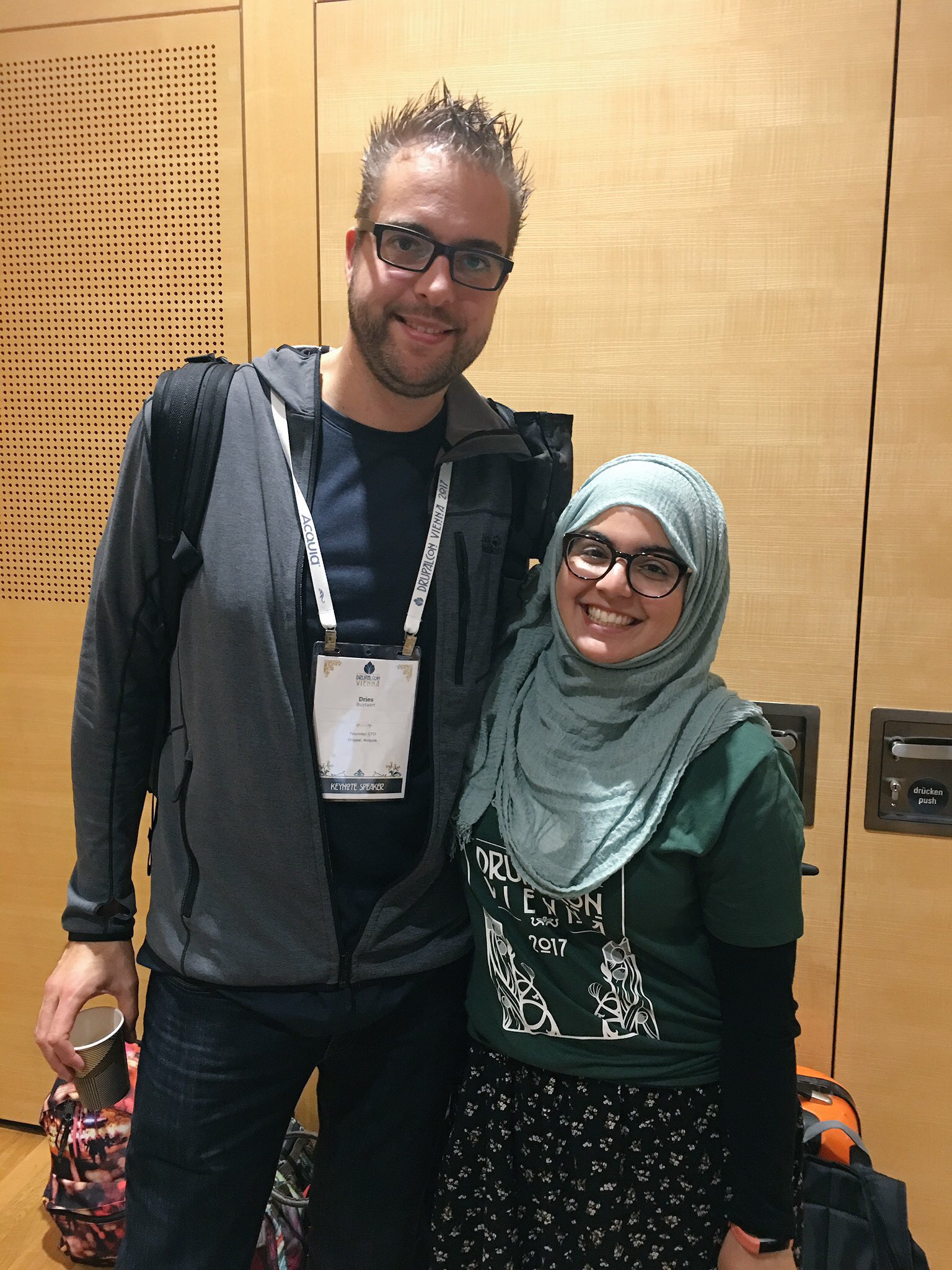 Not All Work Some Play
I tried to find time to explore the city whenever I was free. The castles and architecture in Vienna were breathtaking and I found myself wandering in courtyards wishing there was some way to capture the awe I felt in the moment. Vienna is really beautiful.
After my first day exploring, I earned a reputation of making really fun plans -- and I was never alone after that. Group activities included a day trip to Schonbrunn palace where I got lost in the hedge maze, taking in the sights of downtown Vienna, and thrill rides at the Prater amusement park.
On Saturday, a couple of us took a day trip to Slovakia to see downtown Bratislava. We ate delicious food, did some bus hopping, and walked through Old Town with its preserved medieval architecture, and a city surrounded by a fortress wall. We took a bus up to the mountainside to see the Hrad Devin, the ruins of an ancient castle.
Arriving just before sunset, it was both beautiful and haunting. Though we got lost on our way back to Vienna, it was just a part of the adventure -- and was a really great end to my DrupalCon trip.
Questions Answered
Did Digital Echidna go to DrupalCon Europe?