A Look Back at Drupal MidCamp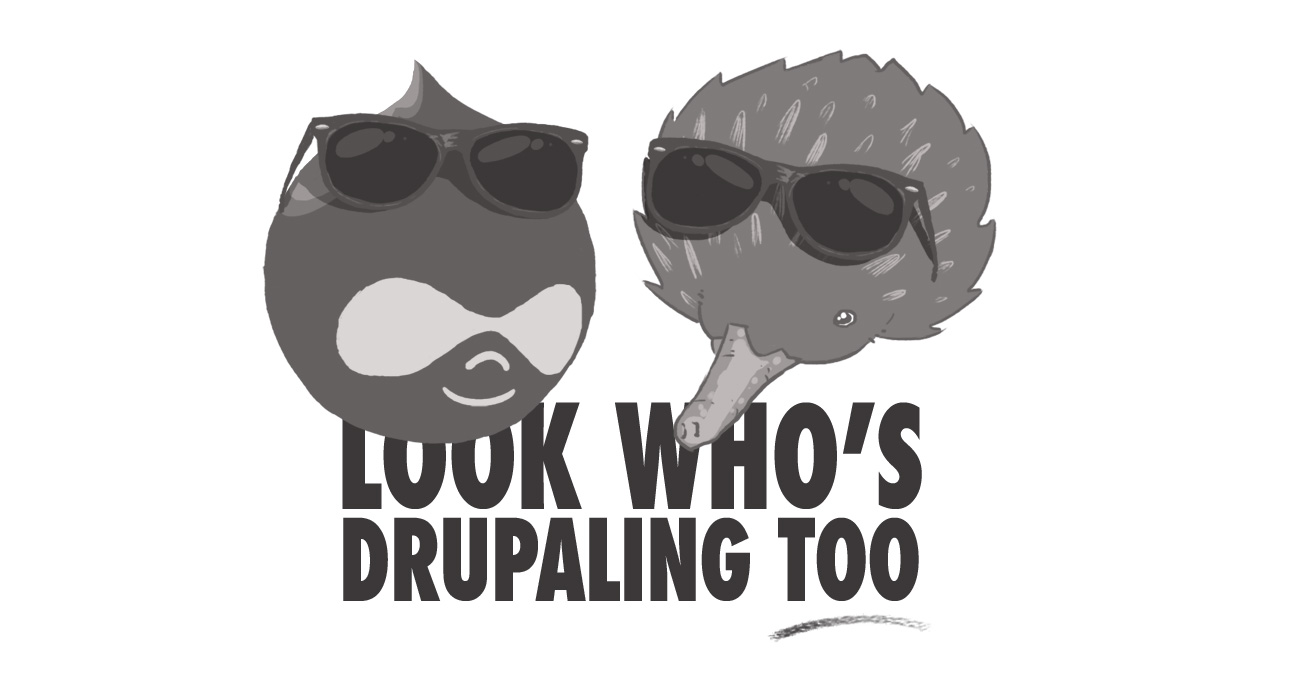 Last week Andrew wrote about how Echidna was all-in for Drupal MidCamp in Chicago, IL. Today, Fatima Khalid shares her impressions of the trip, the event, and the experience. With DrupalCon fast approaching and other Drupal events on the calendar, we invite you to check them out for yourself! We hope to see you there -- Ed.
Oh the adventures we had!
A team of Echidnas set out from London early morning on Mar. 30th to drive Chicago. On the way, there was some snow and a lot of rain. We spent most of the ride doing work on our laptops, talking about the camp, and occasionally taking naps or singing to the radio. When we did arrive in Chicago, we couldn't see much of the city because of the fog. As I was the only one seeing Chicago for the first time, I was really disappointed.
Organizer/Sponsor/Speakers AppreciatION Dinner
Things got better as we arrived just in time for the Organizer/Sponsor/Speakers Appreciation dinner at the Red Lion Pub. When we walked in, we were welcomed with warm smiles, hugs, and thank you gift bags for being speakers and sponsors. The brightly colored gift bags included a drink of your choice, popcorn, tons of candy, and a signed Chicago postcard from the organizers. The postcard was a wonderful addition, I really liked it!
We ate dinner, met with old friends, and chatted up new ones. Most people talked about their travels, the Drupal community, and the sessions they were planning to attend. There was also some talk about the board game social, which is often a highlight of MidCamp.
Conference
The conference started early Friday morning at the DePaul University Student Center. We went over to the venue a little early to help Jeff Bennett prepare the Digital Echidna booth, including setting up our hockey equipment. As people entered the plenary hall, they were full of smiles and we greeted friends we hadn't seen in months.
We started the conference with "The Great Adventure of Open Source Contribution" with Emma Karayiannis, an inspiring Drupal.org contributor, Bartik theme maintainer, and member of the CWG. I had the pleasure of hanging out with Emma later, as well!
She walked us through the steps of how to get involved in a community, how to find and take opportunities, and how to make the most of those experiences. "Try all the things," she said. "Say hello to interesting opportunities." She also talked about the challenges people might face when contributing to Drupal and offered advice on how to overcome them.
The second part of her talk focused on building a healthy community. One of the things that really resonated with me was her statement: "Appreciate the person, not just their work."
Throughout the rest of conference, I attended many interesting talks on security, migrations, and even the internet of things. As always, I learned a lot and took many notes. Camps always give me a lot to think about and research further.
There were a lot of things about MidCamp that were special to MidCamp. Let me tell you about them!
The Wellness Table
I had heard of wellness or quiet rooms at Drupal camps before -- places where attendees can go to take a break from socializing or learning, to relax. At MidCamp, there was a table in the Plenary hall with colouring pages, markers, crayons, colour pencils, and an endless stream of silly cat videos. It was a nice place to slow down, relax, and enjoy the conversation. It's also an important part of growing a healthy community.
My First Session
This was also my first time speaking at a DrupalCamp!
I was really excited when my talk, Adventures in OOP (Object Oriented Programming) was accepted. The session was basically an introduction to OOP for beginners using Pokemon examples. When I was first learning computer science, analogies and examples made understanding easier for me. I wanted to create a similar experience for beginners to Drupal 8.
I was really nervous -- as you'll probably hear in the recording -- but I received an (unexpectedly) overwhelmingly positive response to the session. It was really nice to hear how much people learned.
Preparing and presenting a talk for a DrupalCamp is an adventure of it's own, but I'm glad I made the leap! I'm looking forward to improving the talk and submitting it again.
Drupal Experts Are In
On Saturday, during lunch, Digital Echidna's Scott Reeves and Anya Mykhailova took the stage as the "Drupal Experts" to help people with their Drupal questions. They sat on the stage while people came up with their laptops and specific issues.
It was a bit weird at first because I thought it would be an open forum Q & A with the audience session, but once they got started, there were jokes about the line of people waiting to be helped! Nice job Echidnas :)
Lightning Talks
The lightning talks at MidCamp were very short presentations -- around 5 minutes long -- and generally not about Drupal. The most memorable of them was Jim Birch and his theremin history and demo. The theremin is an early electronic musical instrument controlled without physical contact by the thereminist. Jim brought in an original theremin and demonstrated the various sounds it could make, causing most of the audience to laugh or jump in surprise. The theremin was really interesting and could make a range of different sounds.
Board Game Social
During the evening of day one, MidCamp hosts its very special Board Game Social! After hearing so much about it, I was super excited to attend this event. There was a whole stack of board games on the table to choose from and lots of people came to play.
We joined up tables and a played a large game of Flux, a silly card game where the rules and win conditions get created and destroyed on the fly. After that, we chose to play the Epic Spell Wars of The Battle Wizards: Duel at Mt. Skullzfyre. This is a game upon which we got stuck for hours just laughing and enjoying each other's company. It was a really great way to end the first day of camp.
After a day of technical presentations, sharing ideas and projects, it's really nice to be able to hang out and play games. I find it's a form of community building. 
There was also a Photo Booth with lots of props, but I was having so much fun I forgot about it.
Conclusion
The food was really good - I will miss the delicious milkshakes from Chicago Diner and the new friends I made playing Epic Spell Wars! Camps are about accelerated Drupal learning, but also about building on our friendships in community. I think MidCamp really did a great job of giving us the best of both.
Questions Answered
What's it like going to a Drupal camp?