Hospitals And Foundation Websites: Combine or Separate?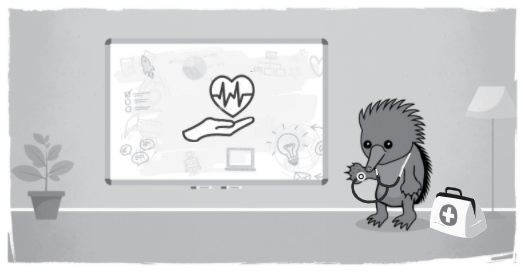 Many hospitals are a two-headed beast, composed of a public-facing healthcare organization and a supporting fundraising organization -- often called a Foundation. Other hospitals have a third head to that structure -- research -- especially in the case of teaching hospitals. 
When it comes time for a hospital to upgrade and redesign to its digital presence, some strategists ask: 
Do we create and maintain separate websites for each entity, or combine the two (or three)? 
As the web development partner for a number of healthcare clients, we've been in this situation numerous times and have seen the decision go both ways. In fact, no one way seems to be the clear favourite. 
Ultimately, the decision comes down to a number of factors, including but not limited to:
How closely tied the hospital is, to its fundraising and research arms
Available budget and human resourcing considerations 
Fundraising campaigns and tactics being used 
Who manages the hospital brand reputation and is responsible for the success of a digital strategy 
Understanding how your primary target (end-users) are interacting with online content, is a vital part of building a successful foundation of knowledge. Realistically, there isn't a one-size-fits-all solution, but rather we encourage you to review the pros and cons of each decision.
ONE SITE APPROACH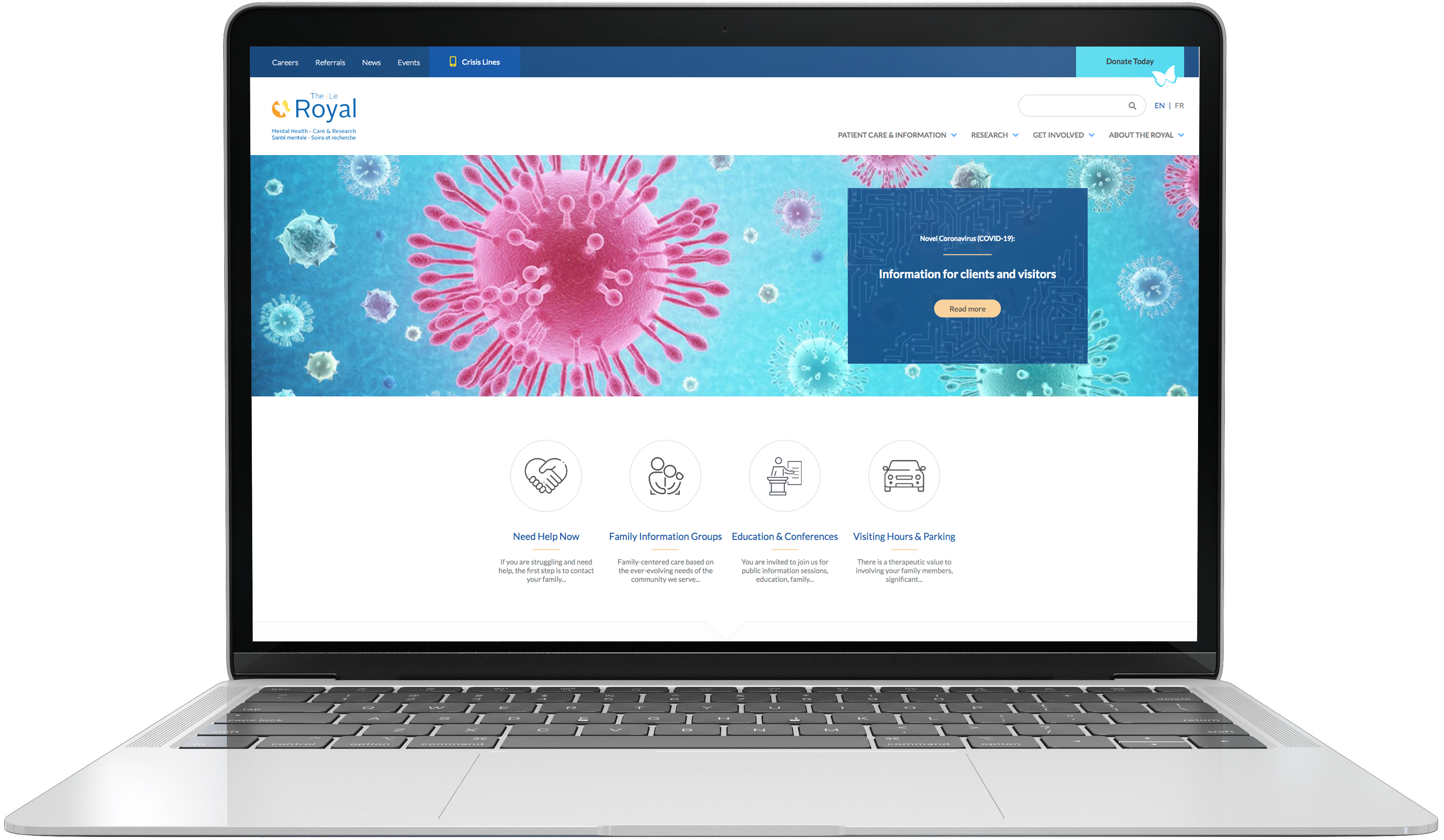 The above image is an example of a combined hospital and hospital foundation website. Each organization has its own mission and different administration, one website serves both. The site has a navigation system that is consistent across all hospital entities and secure sign-in for hospital admin, its Foundation, research arm, and board members. Content editing like news releases, blogs, e-newsletters, events, and so on, are managed through one install of an open-source CMS.  
Pros
Brand Alignment
When all your content is under one umbrella and uses the same CMS templates and design board, it's far easier to ensure that brand alignment is maintained. This is especially important to serve naive end-users (your website visitors) who are generally uncertain about the role of a foundation and how it aligns with the broader healthcare environment. As for the web administrators - "Create Once, Publish Everyone (COPE)" is a time-saver. 
Shared Content Can Lighten Load
Donors generally want to see the impact of their donations. Being able to link to success stories, testimonials, and news items that highlight fundraising success while showing why your hospital is cutting edge, human-focused and the best choice for regional care, can help you maintain overall brand reputation.
Breakdown Internal Silos
Especially if a redesign is going from legacy separate sites to one shared, the project will need buy-in and input from all organizations and be considerate of the two (or three) very different marketing strategies and target audiences. It is a great opportunity to get alignment on all three, find where duplicate efforts are happening, and automate tasks across the organization.
Cons
Lack of Empathy in Design
In terms of empathetic web design principles, if site analytics show the majority of website visitors are looking for visitors hours or downloading insurance and administrative forms, a "Donate Now" button may seem out of place. Why would you put that call to action in a primary navigation spot on those pages? This is just one example of something to be considered during the design.
Lack of Understanding, Agreement About Primary Audience Can Derail a Project
If you are combining sites, who gets what is still thought of - not that it is entirely true - as prime real estate: the "home" page? The client teams will need to agree on how their own target audience finds and uses a site. This is where we consider who needs to visit a website against who is being brought to the site to specific landing pages through other means like digital marketing, event marketing, google search, ads, media, campaigns, e-newsletters, and so on. 
Separate Site Approach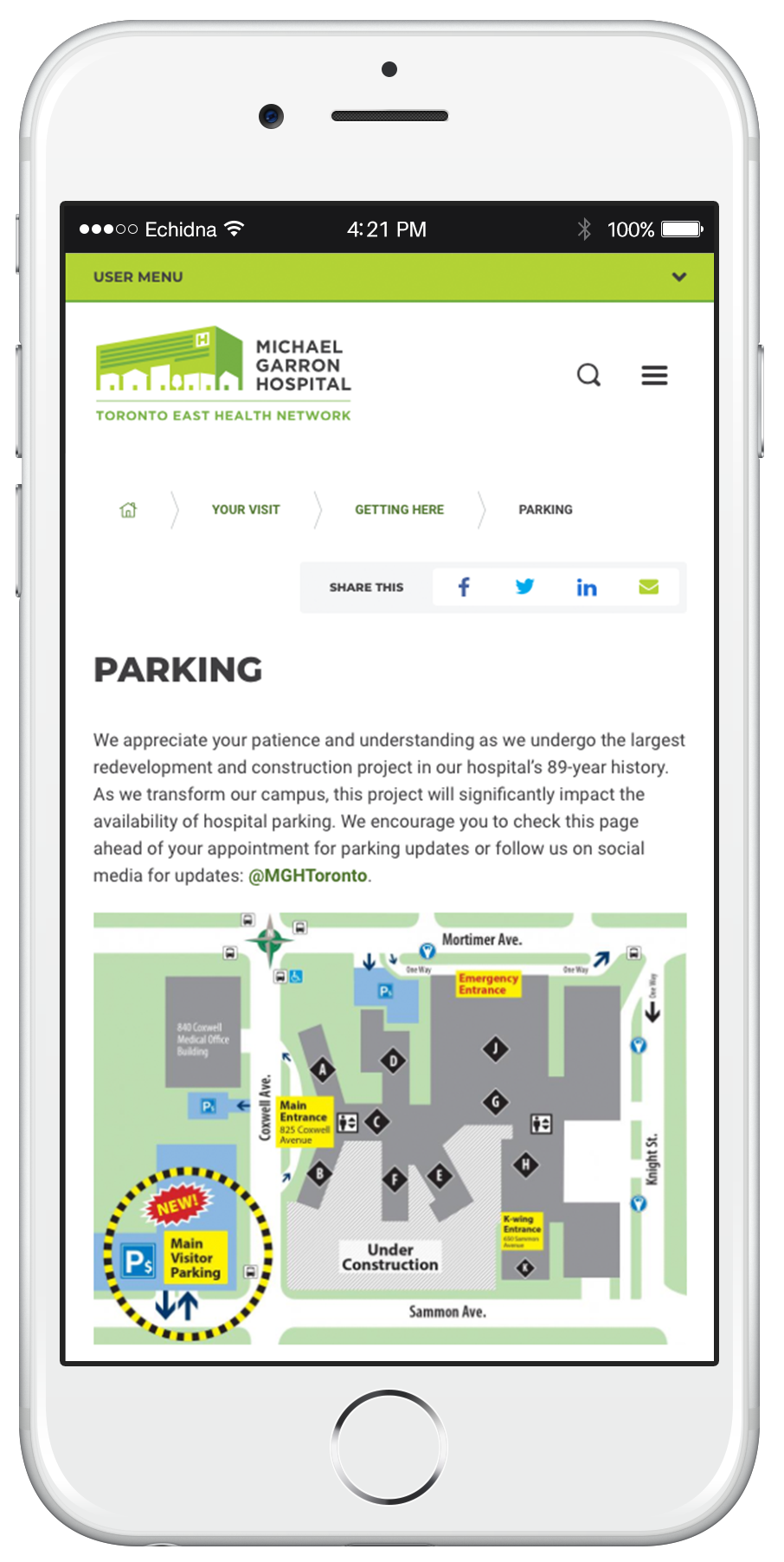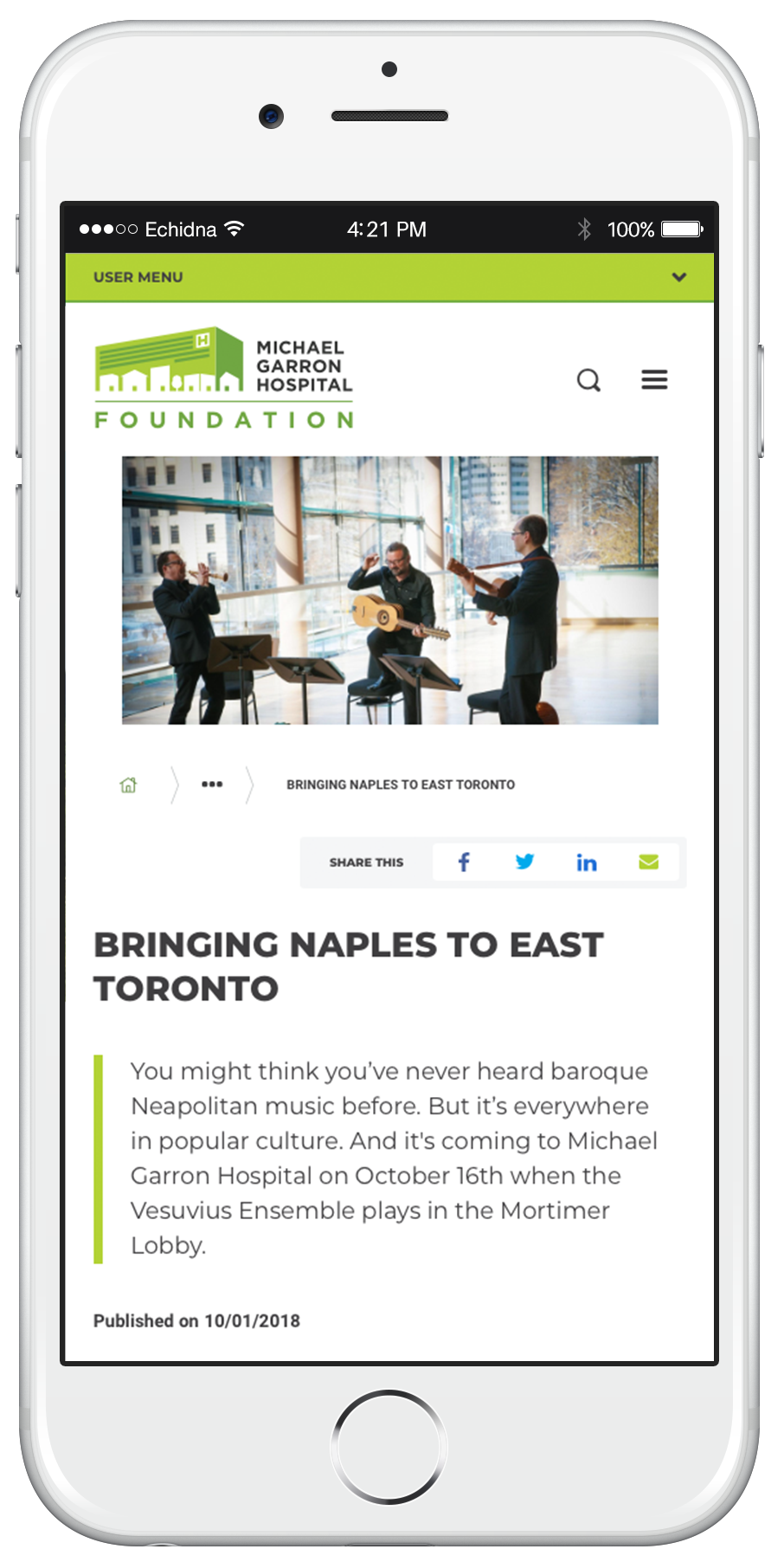 The above two images illustrate an example of a separate website approach. Left, a hospital website and on the right, a site for its Foundation. These two websites look very similar and carry the brand well, but are two different properties. They use the same open-source platform CMS and were designed and launched at/around the same time. 
Pros
Alignment to Target Audiences
A hospital website can focus on providing access to the content that hospital users prioritize while the Foundation site can position its messaging to one that appeals to prospective donors.
Alignment to Supportive Tools
By having a dedicated Foundation website not reliant on a hospital website or tied to one communications strategy, each can keep using the same tools and tactics they always have, even if that means duplicating efforts. From dedicated landing pages with vanity URLs, to targetted media campaigns, to a better target for social media traffic, separate pages allow you to create a home for content that meets the needs of specific audiences. 
Cons
Disconnect Between Properties
You will have little of the inherent relationship that's expressed through a one-site structure. This will also mandate a need to be more aggressive in your communications strategy to drive people to a Foundation page, though this may not truly be a bad thing. The findability of Foundation pages on shared sites tends to be low, so a comprehensive content strategy aligned around driving prospective donors to key content areas is going to be required, no matter how you present content. 
Potential for Disconnected Messaging
In any situation, where you have multiple instances of content that are separately managed, you're going to run the risk that the messaging may be mixed. With independent sites, you amplify that challenge with potential branding disconnects, language/terminology differences, and a lack of one source of truth for content that could result in out-of-date information. This becomes a resourcing issue, as well, as multiple teams will now be required to manage content on multiple sites. 
How to Start?
This isn't a decision to be made lightly and it's important to bring everyone together to have an honest and open discussion about the options before you. In addition to your internal teams, you may want to have your digital partner on hand as a resource or to help facilitate the discussion. 
You're going to want to ask the following:
What's our budget for these projects? 
What are the needs of our target audiences? Ideally, you'll do some user research that asks this question of the audiences themselves, as opposed to internal proxies or patient councils that may be negatively impacted by institutional bias.
What are our internal goals that the website can help support?
What other communications avenues are at our disposal? Do any of these avenues offer a better solution than a website?
Are we willing to test and validate our assumptions to be certain that we've made the right decision?
What is our capacity to manage, update content? 
The Decision is Yours
I'd love to be able to come out and say, "There is one right solution for everyone." But that's just not the case. It's about finding the right solution to meet your needs.
Trust your web development partner to guide you through the process and bridge internal organizational silos to make the best conclusion, unique to your hospital. 
Questions Answered
What is a trend in hospital website design?